* Denotes RGV Tour Course
Richmond County Count
Bethpage Black - Farmingdale, NY
Bethpage Black is a publicly owned and operated course on Long Island, New York. Designed by the legendary A.W. Tillinghast, it is constantly ranked as one of America's most difficult golf courses. It's famous sign on the #1 tee even warns golfers "The Black course is an extremely difficult course which we recommend only for high skilled golfers" The par 71, measures about 7300 yards from the back tees. Jeff and I are only pretending to be afraid in the picture, like a couple of fools, we teed it up on the tips.
Bethpage Black famously became the first publicly owned golf course to host the U.S. Open in 2002. The public came out in droves, setting attendance records and creating an unusually boisterous atmosphere. This was due, in part, to the stadium setting that was created on the 17th hole. Probably something to do with the beer as well. Tiger Woods would go on to win the event and was the only golfer to shoot under par.
I had the pleasure of playing my first round of golf with Ashley K Mayoat the Black Course in 2014. Our threesome was rounded out with local Manhattanite, Jeff Blind, who added comic relief and several well timed quips. Uncharacteristically, Ashley missed a short birdie putt on #18 to break 80. I joined her at that very same number. Until next time, Mayo!!
Fishers Island Club - Fishers Island, NY
Designed by Seth Raynor and opened in 1926, Fishers Island Club is one of America's best and most unique golf experiences. Fishers Island is widely regarded as some of Raynor's best work and the course appears on top 10's in numerous "best of" lists. Even though the course is surrounded by water, it doesn't even have an irrigation system. With most of the holes playing along the shores edge, the course is wildly scenic and a joy to play.
It wouldn't take long to open the birdie gates at Fishers as I rolled in a nice birdie putt on the very first hole. Stephanie Wei would also add some real gems on both the 4th and 5th holes. But it was on the 8th hole that I would receive the bounce of a lifetime. You can hear the full bounce story and the hole by hole account of our round on the Wei Under Podcast.
Friar's Head - Baiting Hollow, NY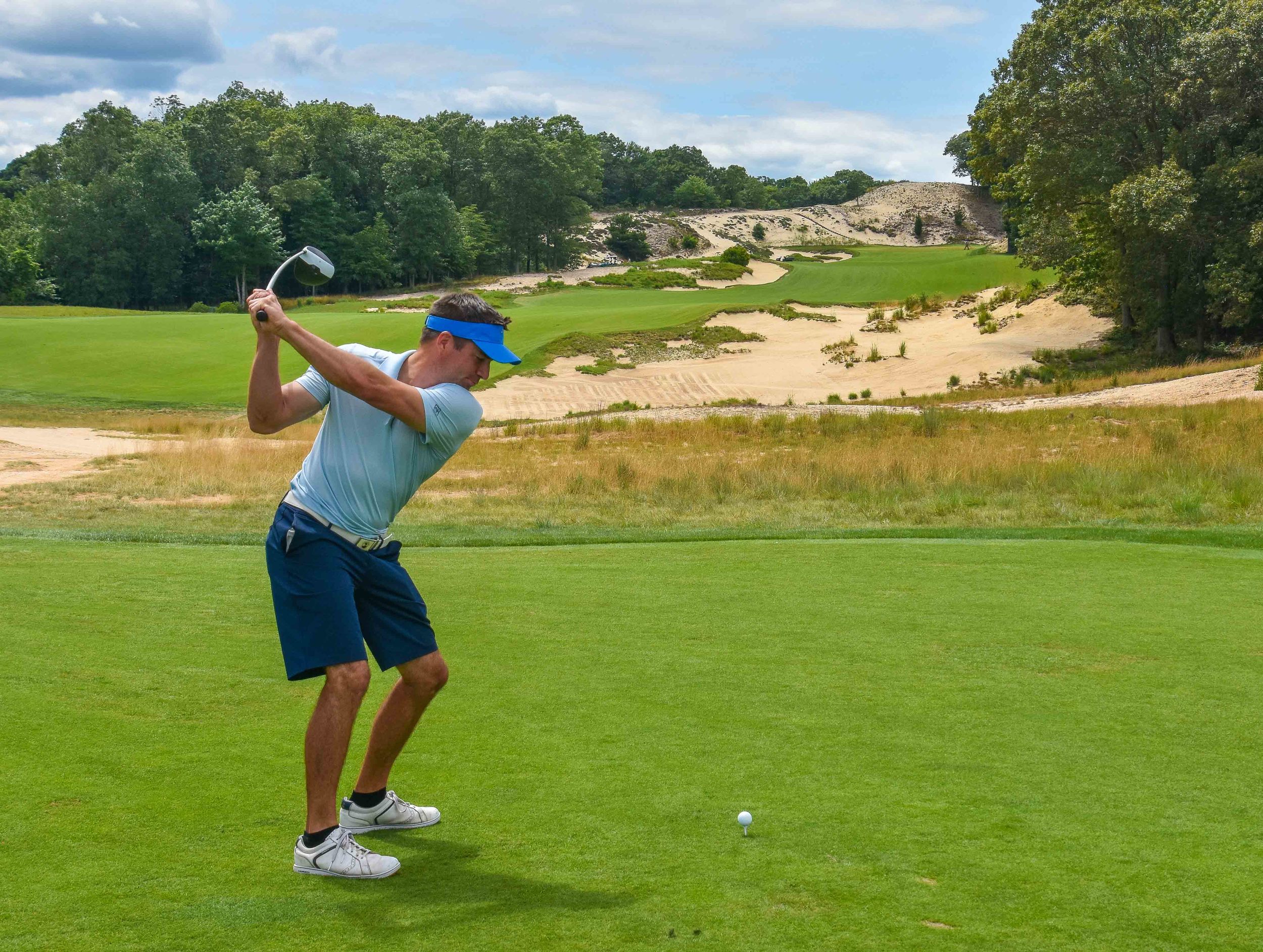 Friar's Head is located on the golfing mecca strip of land that is known as New York's Long Island. Designed by the team of Bill Coore and Ben Crenshaw the course opened in 2002 to critical acclaim and is currently #23 on Golf Digest's 100 Greatest rankings. A couple of unique things about Friar's Head:
There are no yardages on the scorecard, or anywhere else for that matter, your caddy knows all.

Guests are not permitted to fix their own pitch marks. Your caddy will fix the pitch and squirt some water on it.

The practice facility is a total golf playground and the best I have ever visited. A strict divot pattern policy is enforced.

The term Friar's head derives from a large sand formation that sailors thought looked like a friar's head as they approached the shore on this piece of land.
We had an all world foursome lined up at Friar's Head. Ashley Mayo, Jeff Blind, Joe Garvey, and myself could not have been more excited to tackle the head of the friar. Naturally, we played the push up game, made a ton of birdies, and set a new record for # of hilarious comments on a golf course in 18 holes.
Note: Out of respect for the photo policy at Friar's Head, the only photos you will see are of our group playing golf and not the course specifically.
Hay Harbor - Fishers Island, NY
The Club at Fishers Island is not the only club on Fishers Island. You have also got a 9 hole course named Hay Harbor. The course has been around since 1898 and is a mixture of par 3's and 4's right on the water. The course is a ton of fun to play.
Since the Ferry only runs a couple of times a day, we had a nice gap in time that allowed us to take in a quick nine while we waited for the afternoon fairy to pull up. We found a couple of pars and took in the views on the 2nd best walk on Fishers Island.
Hudson National - Croton-On-Hudson, NY
When it opened in 1996, Hudson National jumped onto the scene and into plenty of top 100 lists. Designed by Tom Fazio, the 260 acre site looks over the Hudson River and is the second highest elevation in all of Westchester County. The design is not a natural one as 130,000 cubic yards of rack were blasted away to make room for a golf course that feels entirely natural. One of my favorite aspects of the course was the remains of the old Hessian Hills clubhouse next to the 4th green. The 9 hole course and clubhouse were lost to a fire in the 1930's.
That fire may have been extinguished long ago, but the flames of my burning golf game flashed brightly. While glimpses of the golfer within would emerge from time to time, the bad shots were outweighing the good shots by a wide margin. After taking 5 shots in the fairway bunker on #17, I would concede full victory to Hudson National.
Maidstone Club - East Hampton, NY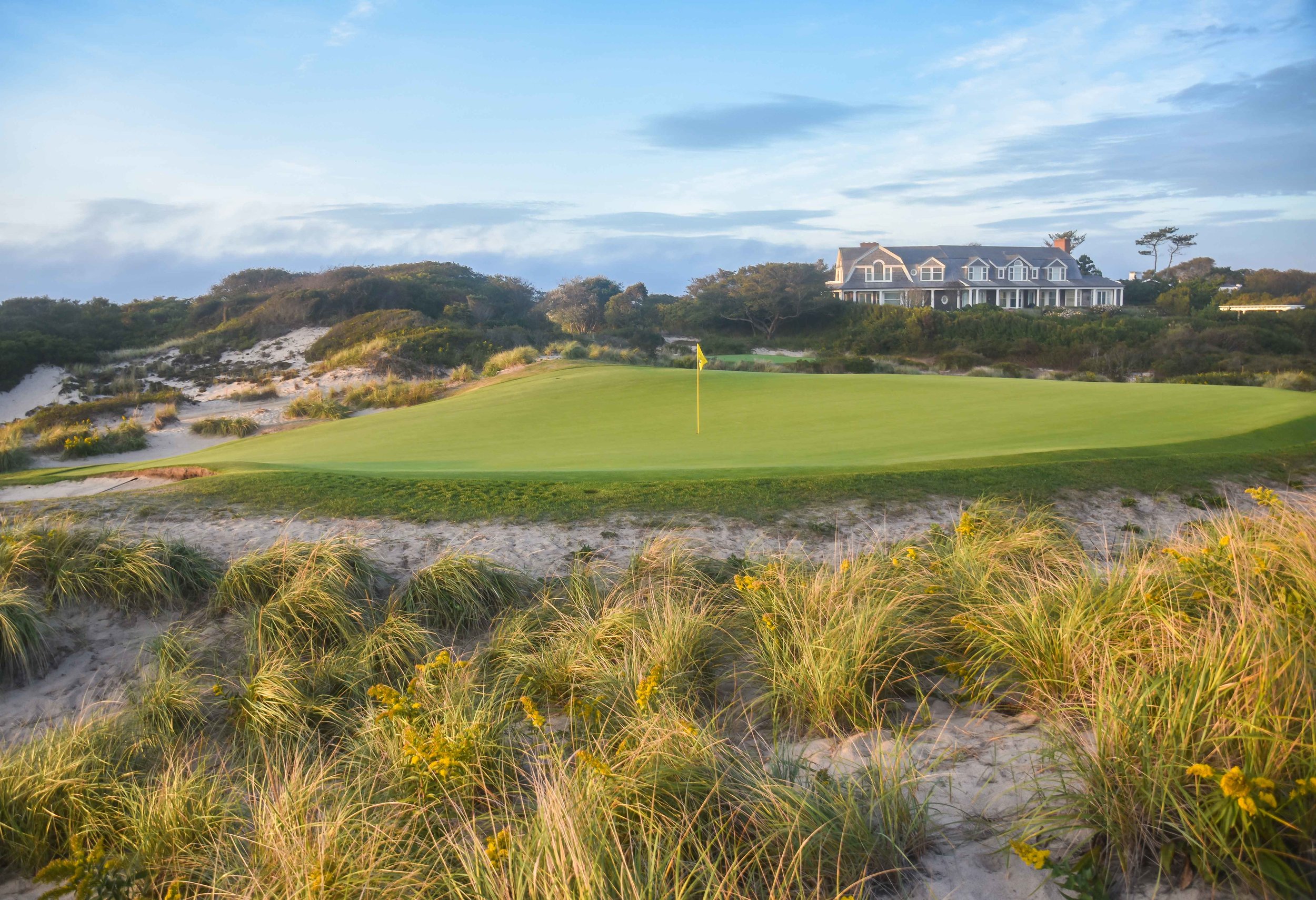 Maidstone was originally founded as a 7 hole course back in 1894 by Willie Dunn. in 1924, the course was redesigned by Willie Park Jr and serves as the present day layout. A recent Gil Hanse renovation has also restored the integrity and design concepts intended by Willie Park Jr.
The idea that a course of this stature would barely make a "top 5 list" on Long Island goes a tremendous way to show the strength of Long Island golf. I found The Club at Maidstone to be one of my most enjoyable rounds on my NY golf trip. A couple points of note.
The house off of 15 tee was supposedly sold for $70 million in 2017 and has bullet proof (golf ball proof) windows

The Maidstone whale logo is one of the coolest logos in the game

The turn shack is basically right there on the beach. It's a beach snack shack.

In terms of real estate, I value the tiny, but delicious turn shack at $2.3 million.

The 14th green is the 2nd all time home page image for www.pjkoenig.com
National Golf Links of America - Southampton, NY
National Golf Links of America or NGLA, or "The National" was designed by Charles B. Macdonald with Seth Raynor supervising the construction. It opened in 1911 as one of America's greatest golfing treasures and has remained so to this day. Many of the holes are designed after notable golf holes in the British Isles and have been adapted to fit their local setting on Long Island. Famous links courses like St Andrews, Prestwick, and North Berwick are all represented on the "template" holes designed by Macdonald at the National.
Those familiar with the course will certainly recognize the famous windmill in the pictures and it comes into play early on the 2nd hole. According to our caddie, a member once remarked to Macdonald that a windmill would make a nice addition to the course, so Macdonald purchased one while the member was out of town and left the bill for it in the member's locker. In a related story, one of our golfing accomplices would fire his tee shot directly into the windmill. I would laugh as the ball bounced off of golf's greatest landmark. No damage was done.
The National Golf Links of America had been at the very top of my bucket list for years. So I was substantially stoked when I got the chance to actually play it. Maybe too stoked as I made an outstandingly awful double bogie on the opening hole. The good news is that my golf nerves would calm down and I would find a handful of birdies on the remaining holes to keep things in the 70's. NGLA is easily one of the best walks you can take in the game.
Old Oaks Country Club - Purchase, NY
In 1925, Old Oaks Country Club was called Progress Country Club and it consisted of 2 golf courses, one 9 hole course and one 18 hole course built by AW Tillinghast. Unfortunately, the 9 hole course is now Highway 684, but the 18 holes remaining are some of the finest in Westchester.County. Also, that impressive clubhouse you see in the pictures was previously the residence for a silk merchant named Trenor Luther Park. Trenor must have had some serious silk sales skills.
In a day of back to back Tilly tracks, Old Oaks would be my second round in a day of 36 holes. Hot off a poor performance at the nearby Quaker Ridge Golf Club, I would continue my unimpressive play at Old Oaks. However, in the day's highlight, I would casually make birdie as I played through a foursome. As far as those guys know, it was just another ho hum 69 for this guy.
Quaker Ridge Golf Club - Scarsdale, NY
In 1776, George Washington prepared for battle by sleeping under the great oak on the 10th hole at Quaker Ridge. Even though the golf course would not be built for another 142 years. the land was already making history. Eventually the 10th hole would emerge along with 17 other holes designed by AW Tillinghast. The course would open for play in 1918.
Quaker Ridge would have to wait another 99 years before golf traveler, Patrick Koenig would visit the properly. Unfortunately, by then the great oak would no longer exist. In typical Koenig form, Koenig would go on an impressive run of bogies that would lead to a wild unimpressive score. Let's just say they won't have to rewrite the history books after my visit.
Shinnecock Hills - Southampton, NY
Shinnecock Hills, established in 1981, is one of America's greatest golfing institutions. As one of the 5 founding clubs of the USGA, the original course was a 12 hole design by Willie Davis. The course would be redesigned 4 times before 1931 when William Flynn would design the course known today.
The course is also a seasoned veteran when it comes to hosting major championships. Shinnecock hosted the 2nd US Open in 1896 and would also host the 100th anniversary of the same event in 1995. Seriously, how cool is that!?! The course will be on