Adios Golf Club - Pompano Beach, FL
Adios Golf Club comes in at #1 on Golf Digest's list of Best Damn Clubs in the Country and probably has more stories than I can fit on this page. I found the club's history to be an interesting one.
The land that would become Adios GC was originally owned by Eleanor Ritchey, the grand daughter of Quaker State Founder, Philip John Bayer. Eleanor owned about 150 dogs and when she passed away, she left everything to her dogs. Since dogs can't own property the bank stepped in and eventually worked a deal with Wendy's founder Dave Thomas, Arnold Palmer, Whitey Ford, and 12 others. Arnold is credited as the architect and Adios Golf Club officially began it's history in 1982.
Today the course is more famous for it's club than it's course. I found both to be awesome.
Bay Hill Club and Lodge - Orlando, FL
Black Diamond Ranch - Quarry - Lecanto, FL
Black Diamond Ranch - Ranch - Lecanto, FL
Calusa Pines - Naples, FL
Capital City Country Club - Tallahassee, FL
Doral Blue Monster - Doral, FL
In 1962, Alfred Kaskel founded the Golf Resort at Doral and it's Blue Monster Course has hosted a PGA tour event ever since it's inception. From 1962-2006 it was the Doral Open and since 2007, it's the WGC Cadillac Championship. it features 90 holes of golf with 18 of those belonging to The Blue Monster. You can find the Blue Monster hiding in some of the bunkers. Today the course is owned by Donald Trump and in typical Trump fashion features a ridiculously massive fountain right by the first tee and putting green.
The Blue Monster at Doral was going to be the very first round of golf that i have ever played in the state of Florida. And it was going to be a windy one. We faced down the tough test of championship golf in 30-40 mph winds. After everyone took an 8 on the 1st hole, we knew it was going to be a long day.
The good news was that our 3some consisted of Breaking Eighty's Sean Ogle, myself, and local member Wes Ferrell. Our spirits would not easily be broken. Our new friend, Wes, has a contagious enthusiasm for just about any good golf shot. My 6 footer for bogie on #2 was greeted with radiant cheers. This was going to be an enjoyable struggle indeed. After grinding most of the day, the wind settled down in the evening and our group finished in style with some great par putts on the tough 18th.
Side note: Nobody threw any clubs in the lake.
Hammock Beach - Ocean - Palm Coast, FL
Hammock Beach - Conservatory - Palm Coast, FL
Innisbrook - Copperhead - Palm Harbor, FL
Innisbrook - Island - Palm Harbor, FL
Jupiter Hills Golf Club - Jupiter, FL
Omni Amelia Island Plantation - Amelia Island, FL
Reunion Resort - Kissimmee, FL
Seminole Golf Club - Juno Beach, FL
Streamsong - Black - Streamsong, FL
Streamsong - Blue - Streamsong, FL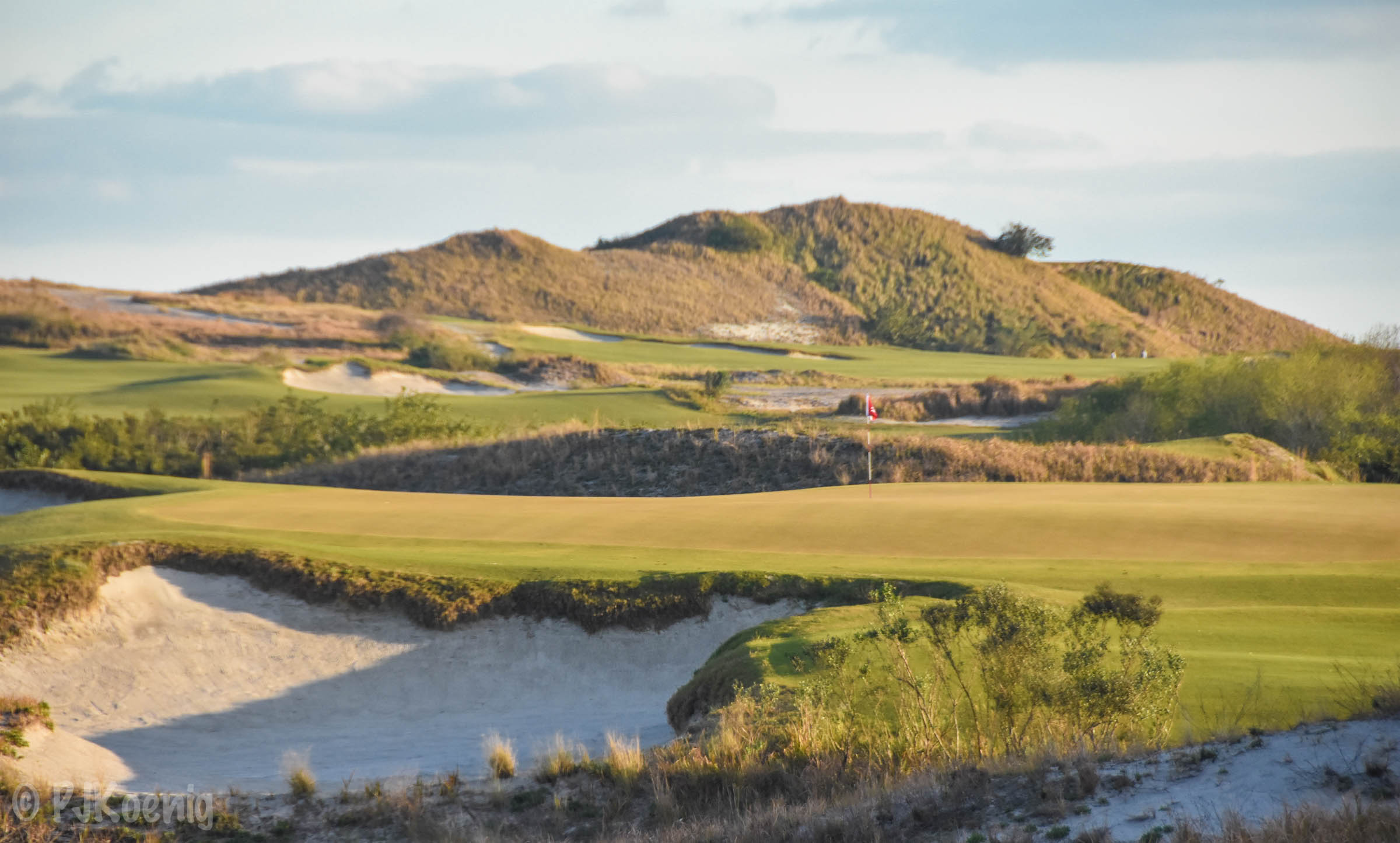 The Blue Course at Streamsong resort was designed by Tom Doak and has a reputation as the bolder, more fun offering of the 36 holes currently at Streamsong. Not necessarily better or worse, just different. I continue to wrestle with which course I prefer, Red or Blue, or was it Blue or Red?? There can indeed be great joy in discussing your preferences and explanations. Either way, both courses are challenging, fun, and well designed. Streamsong Blue would be the second round in a fantastic day of 36 with Golf Digest's Ashley Mayo and Breaking Eighty's Sean Ogle.
As Ashley's sunburned worsened and the birdies and sun started to fall, we golfed our little golfing hearts out on this fine Florida day in January. It would be a sun up to sun down type of day on the golf course with 2 great friends.
By the numbers;
1 - Number of times our group was sssshhh'd by the group in front of us for having too much fun.

56 - Number of pictures taken on the 7th hole

2 - Number of holes played in darkness

1 - Number of alligators that turned down our offer to join our threesome.

100% - Percentage of effort put into birdie celebration on #3

6 inches - Acceptable distance to "kick in" your birdie putt

0:5 - Ratio of jumping high fives attempted to jumping high fives successfully executed
Streamsong - Red - Streamsong, FL