Atlanta Athletic Club - Highlands - Johns Creek, GA
The Atlanta Athletic Club was founded in 1898 and has played a significant role in the history of US Golf. The Highlands course has hosted the PGA Championship 3 times in 2011, 2001, and 1981. Most recently, the course hosted the 2014 US Amateur and held a US Open back in 1976 and a Ryder Cup in 1963. Bobby Jones was also a member at the AAC.
In 2001, David Toms made the 15th hole famous by recording a Saturday ace with his 5 wood en route to winning the PGA Championship. The hole plays over a pond on the right hand side and can now be stretched to 260 yards. I would attempt to re create the feat, but would come up long.
For my round, I teed it up with 2 long time members that showed me around the layout. Although I had plenty of looks at birdies, the lip out vibes were strong and I remained birdie-less until a downhill slider found the bottom of the cup on the 16th hole. I didn't scream as loud as Keegan Bradley did in 2011, but it was a satisfying moment.
Atlanta Athletic Club - Riverside - Johns Creek, GA
The Riverside course at Atlanta Athletic Club was designed in 1964 by Robert Trent Jones and is a fantastic compliment to the Highlands course. Rees Jones did a redesign in 2003 which earned honors that year as a top 10 redesign by Golf Digest. In tandem with the Highlands course, the Riverside track also hosted the 2014 US Amateur and 1990 US Women's Open.
After a strong morning showing on the Highlands course, my game crumbled down the stretch and I lost my lunch money in the member's game I jumped in on. What I lost in lunch funds, I made up for in good times.
Atlanta Country Club - Marietta, GA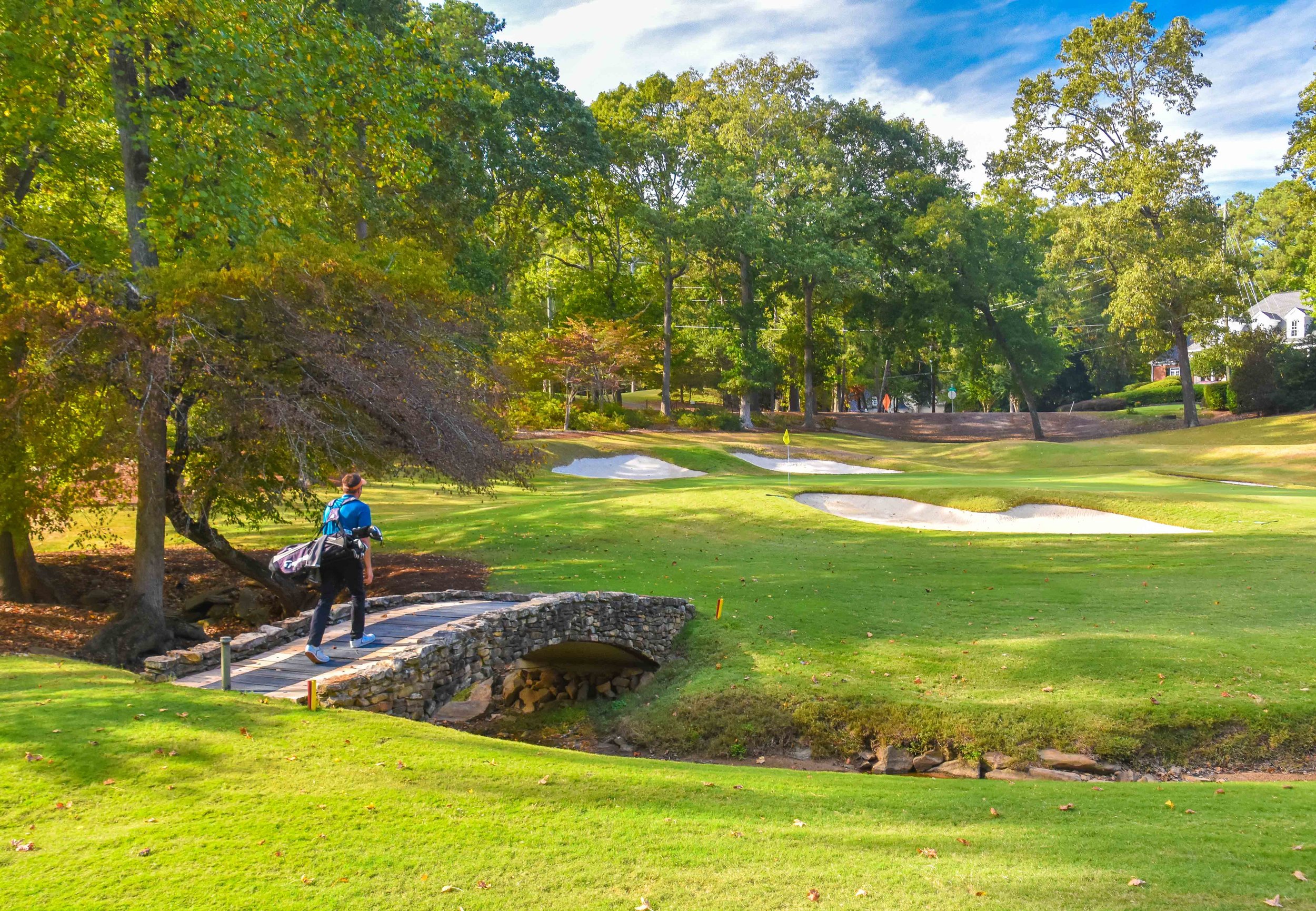 Founded in 1964, Atlanta Country Club has hosted a number of prominent golf tournaments. Most notably ACC hosted the Atlanta Golf Classic for 29 years (1967-1996). However, in 1974 they took a break to host the inaugural Players Championship which is now at TPC Sawgrass.
The Founder of GottaGolf, Clint Jarvis, and I would tee it up on a fine fall day in October. Clint would bring his Pro Tracer technology and I would bring my A-game to Atlanta Country Club. I proudly handed in a round of 72. Please see tweet below for demonstration of the Clint's tracer technology in action.
Big Canoe Golf Club - Big Canoe, GA
Big Canoe is a 27 hole golf complex designed by Joe Lee. The course features 3 different 9 hole options that wind through the mountainside and provide plenty of views and dramatic elevation changes. The Choktaw, Creek, and Cherokee 9's are all relatively short by today's standards but are a ton of fun to play. If your short iron game is on, you will have plenty of chances at birdie.
Paired up with the GottaGolf team and social media sensations, Karin Hartand Coach Rusty, our group found plenty of birdies. Coach Rusty provided the trick shots and we did our best to roll video. Be sure to check out the coach in action here.
Candler Park - Atlanta, GA
Champions Retreat - Evans, GA
Located just a half an hour from Augusta National Golf Club, Champions Retreat is the only 27 hole golf course designed by Jack Nicklaus, Gary Player, and Arnold Palmer. The Island nine was designed by Palmer, The Bluff was designed by Nicklaus, and The Creek nine was designed by Player.
After a nearly rained out Wednesday at The Masters, we headed up to Champions Retreat for a Thursday tee time just as the 2017 Masters was commencing nearby. Although our crowds were not as big, the sparks would fly on the par 5, 5th hole. After two subpar shots, Sean Ogle of Breaking Eightyhad left himself a 170 approach from the right rough. Apparently, this was the perfect spot for Sean as he would can his next shot for an eagle 3. Our foursome erupted with cheers. I am pretty sure they heard us down at The Masters.
Currahee Club - Toccoa, GA
Druid Hills Golf Club - Atlanta, GA
Glen Arven Country Club - Thomasville, GA
Governors Towne Club - Acworth, GA
Lookout Mountain Golf Club - Lookout Mountain, GA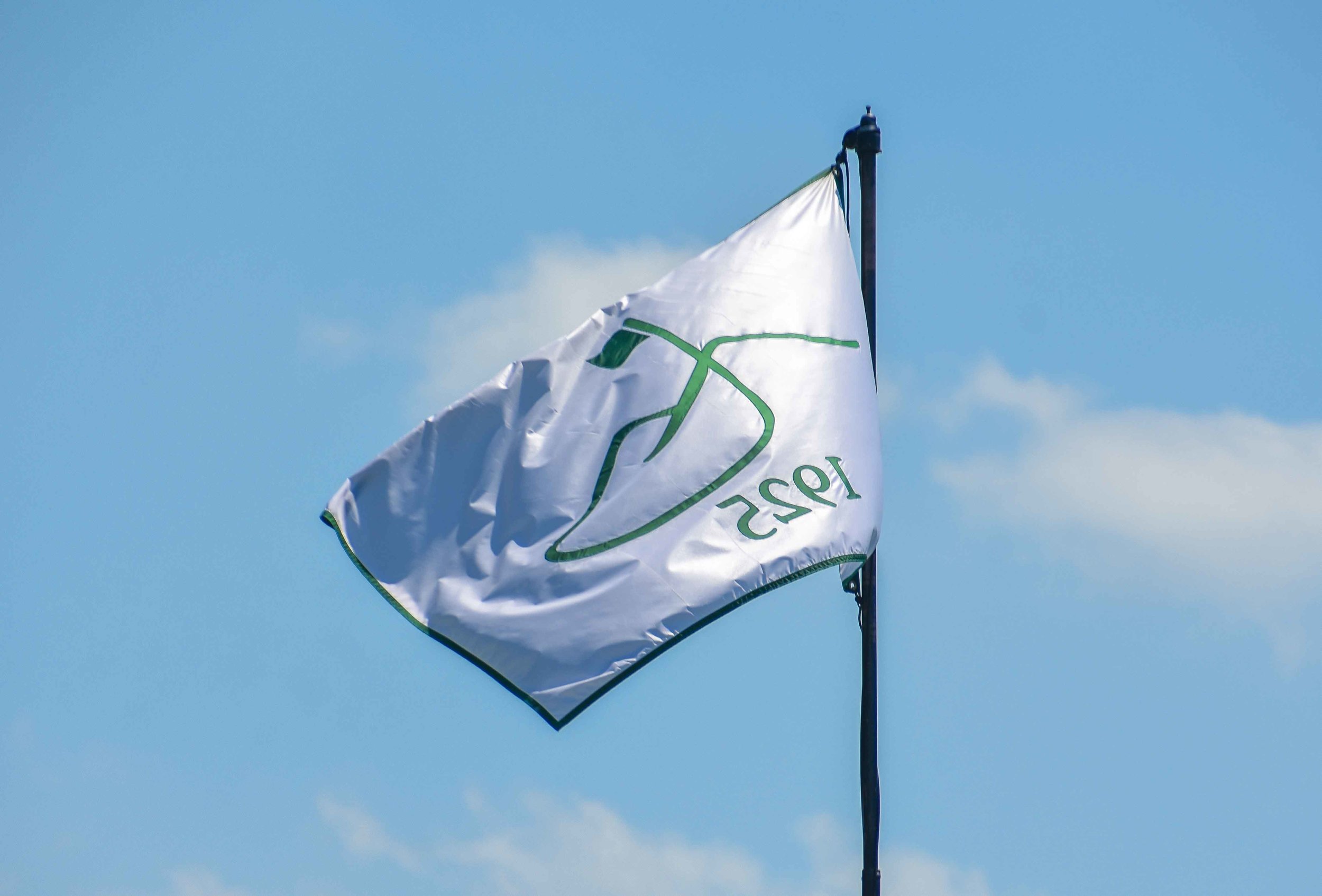 Piedmont Driving Club - Atlanta, GA