Bali Hai Golf Club - Las Vegas, NV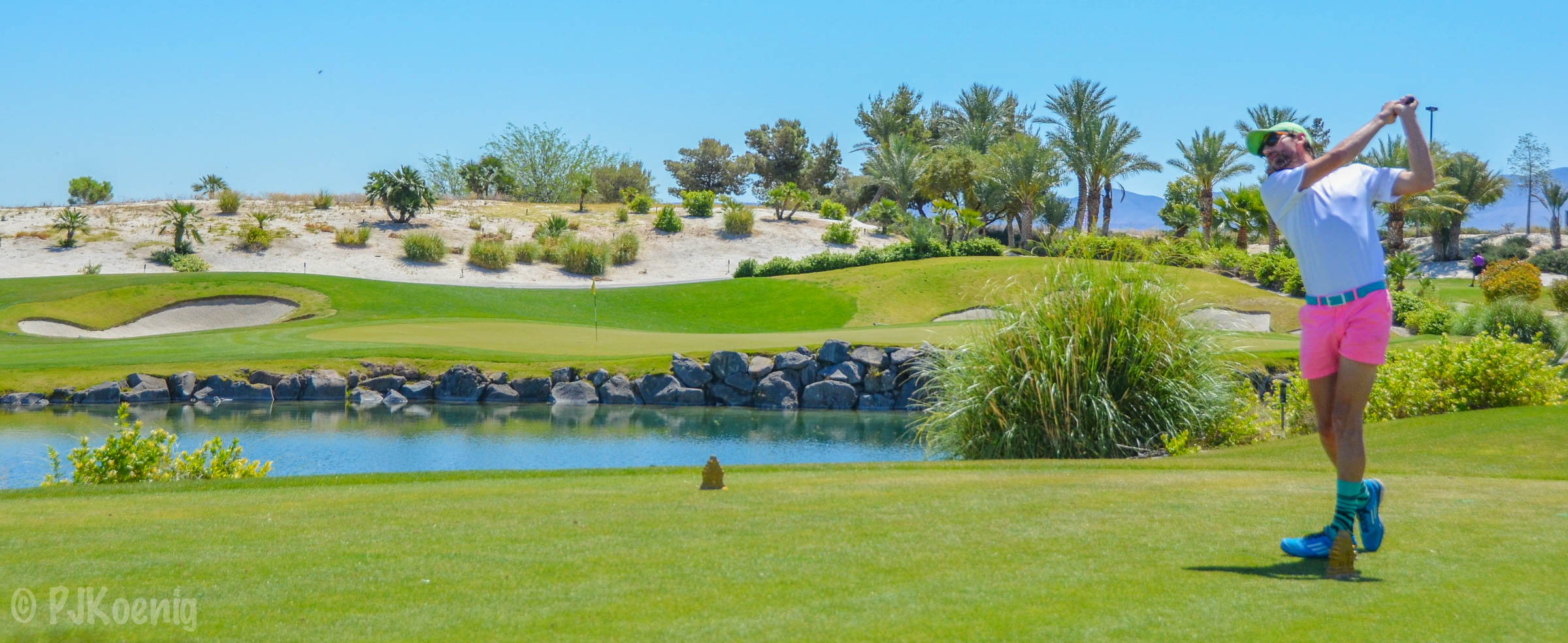 Bali Hai is one of the better courses that I have played in the Las Vegas area. Located conveniently close to the Vegas strip, Bali Hai boasts some great views of Las Vegas, particularly the Mandalay Bay. Bryan Curley and Lee Schmidt designed the course to build slowly allowing the golfer to enjoy their surroundings before throwing some challenges their way.
Measuring 7002 yards from the back tees, the course features a mix of challenging and scenic holes. The par 4 3rd hole stood out to me as one seriously good golf hole. Measuring 468 yards with a creek down the entire right side it provides a great challenge, The par 3's were also particularly scenic and fun to play.
Bali Hai also plays host to the final round of the inaugural Golf Digest Invitational. I happily attended this prestige event and you can find all of the details in the Golf Blog under Golf Digest Invitational.
Cascata Golf Club - Boulder City, NV
Cascata is the Italian word for waterfall and it doesn't take long to realize where the course gets it's name. On your way to check in at the pro shop you will notice a 418 foot waterfall that runs from the far end of the driving range turning into a river that runs right through the inside of the clubhouse. From there, you will find your clubs loaded onto a cart passing through a staging area on the lower level of the clubhouse. A very cool to a start to what would be a great day.
Cascata opened in 2000 and was designed by Rees Jones with a price tag of around $60 million. The plan was to provide an upscale golfing "experience" for the high rollers and celebrity guests of Caesars' in Las Vegas. The course is Caesars' answer to Steve Wynn's nearby Shadow Creek. Cascata has notably hosted Tiger Woods' annual Tiger Jam in the past and the May 2002 cover of Golf Digest shows Tiger Woods standing on water by the 14th green at Cascata. Fortunately, the course is open to the public so guys like me can feel like a high roller for the day.
After a brief chat with our forecaddie about the greens rolling to a 12, we headed out to the first tee. The course starts out with several uphill par 4's. Before plunging downhill onto the 561 yard 3rd hole. I would go on to make an eagle and break my streak of 53 consecutive missed eagle putts here. YEEEHAAW! It must also be noted that I made a 75 foot par putt on the par 5 5th hole.
One of the nicer aspects of the course is that only the current hole is visible at any one time. Almost all of the cart paths are also hidden from view and Jones can also be applauded for the tremendous amount of variety he has created in a desert landscape. I have typically find this to be lacking in typical desert layouts. The only drawback was the big gap (10 holes) in between par 5's. The good news is that one of those is the outstandingly fun, double dogleg, risk reward, finishing hole.
The par 3's particularly stood out for me as they all are tremendously varied and each requires a well struck golf shot. Each of the par 3's also provides a great opportunity for those that brought their cameras. I was glad that I brought mine. If you have the funds or just made out big on blackjack the night before, I would highly recommend Cascata for a once in a lifetime golfing experience.
Conestoga Golf Club - Mesquite, NV
Conestoga Golf Club is a Troon managed championship layout designed by Gary Panks. The course jumps into high gear right away with the dramatic downhill par 3 2nd hole. Things continue to stay interesting as the course offers up several thoughtful target based par 4's. The front nine is definitely the more picturesque of the 2 nines as it winds its way through the mountains. The back nine is more open and not quite as spectacular, but still a fun test of golf. Overall, Conestoga is a fun round of golf on a good looking golf course.
Ashlee Bradshaw and I had a total blast taking pictures and playing through the scenic layout. Things started out hot with a birdie on #1, but the brief ride on the birdie train would stop there for the day. I racked up a hand full of good iron shots and Ashlee threw in some sass on the back nine that all added up to a great day on the golf course.
Coyote Springs Golf Club - Coyote Springs, NV
Coyote Springs Golf Club opened to the public in 2008 and was designed by Jack Nicklaus. The course was supposed to be the centerpiece of a planned community but environmental concerns, political favoritism, and economic recession have prevented the homes from being built. As for the golfer, this is great news. At Coyote Springs, its all golf and beautiful backdrops.
Having played a number of Jack Nicklaus courses, I had an idea of what expect, however this course would exceed my expectations. The course provides the chance to hit a number of different shots into a varied assortment of well designed holes. In order to score well, the course requires a combination of strategy and execution. Precision is required on many shots otherwise, you will face a tough challenge to save par. For those that love variety, strategy, and embrace the challenge of a good par save, Nicklaus' Coyote Springs will be one of your favorites.
Dragonridge Country Club - Henderson, NV
Edgewood Tahoe - Stateline, NV
Edgewood golf course was the site of the Koenig Bachelor Party in 2013. The event was such a rousing success, that one year later, my friend Xan would host his bachelor party and the coinciding 2014 Xanvitational at Edgewood Tahoe as well. They also play a celebrity golf tournament here every year. With casinos and South Lake nearby, this is an ideal location for a golf bros trip.
The course was designed by George Fazio and opened in 1968. in 1985, Edgewood would host the US Senior Open which was won by Miller Barber. This was the 1st time the US Senior Open was televised. At the time, it was a tiny unknown network called ESPN that hosted the broadcast.
Edgewood remains my favorite place to play in the Tahoe area. Finishing up right on Lake Tahoe, the 18th green is one of the most picturesque golf holes you will ever find.
Las Vegas Country Club - Las Vegas, NV
Paiute Golf Resort - Snow Mountain - Las Vegas, NV
Paiute Golf Resort - Sun Mountain - Las Vegas, NV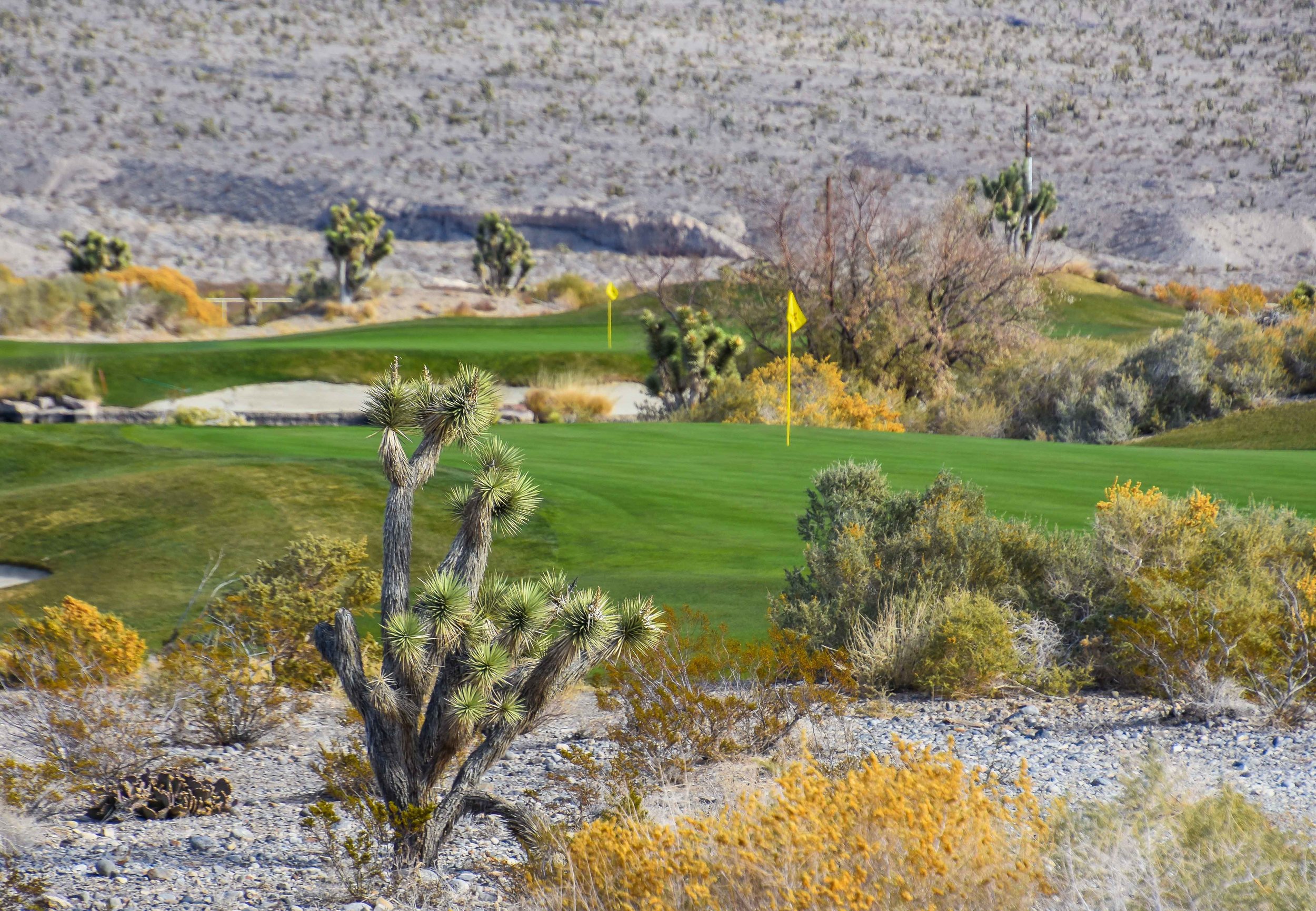 Paiute Golf Resort - Wolf - Las Vegas, NV
Through 15 holes on the Wolf Course at Paiute, I had made 15 consecutive pars. However, my dream of making 18 pars was dashed on the very next hole after missing a short 5 footer for par on 16 to convert another sand save.
The Wolf Course is regarded as one of Las Vegas' toughest desert golf tests. At 7,604 yards from the tips, this Pete Dye course gives the golfer all they can handle. Our foursome opted for the 7009 yard version on this fine sunny day in Vegas.
Reflection Bay - Henderson, NV
Shadow Creek Golf Club - Las Vegas, NV